Liberty (France)
Professional Brands Facial Treatment
Liberty DNA Rejuvenating Eye Treatment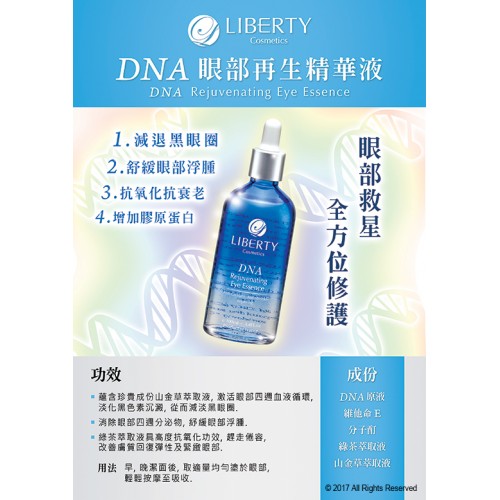 Ingredients
DNA Solution, Vitamin E, Propylene Glycol, Green Tea Extract, Arnica Extract.
Description
Contain Arnica Extract that stimulates blood circulation around the eye area, reduces dark circles.
Eliminates excess secretions within the eye area, relieve periorbital puffiness.
Green Tea Extract is an effective antioxidant, restores elasticity and glow to the eye area.
Share this information to

---
Liberty Sodium Hyaluronate Hydrating Treatment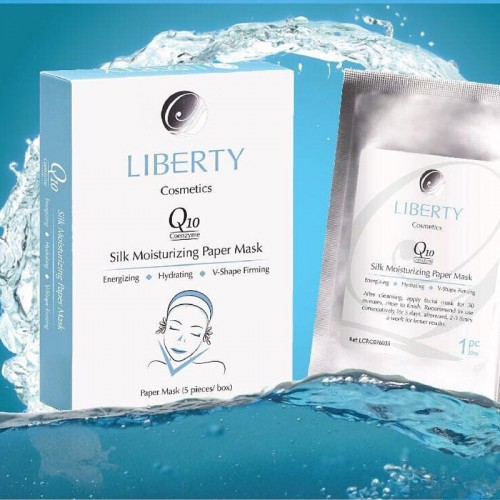 Ingredients
Sodium Hyaluronate, PCA, Seaweed, Marine-Collagen, Active Yeast Essence
Description
Immediately inject a large amount of moisture to skin, currently acknowledged as the best method for moisturizing skin by Dermatologists around the world.
Most effective in absorbing water, help skins cells to absorb moisture from the atmosphere.
Reduce wrinkles, improve skin elasticity and prevent skin aging.
Repair, relief and calm skin cells, reinforce skin's natural barrier against evaporation.
Share this information to

---
Liberty SOS Repair Essence Treatment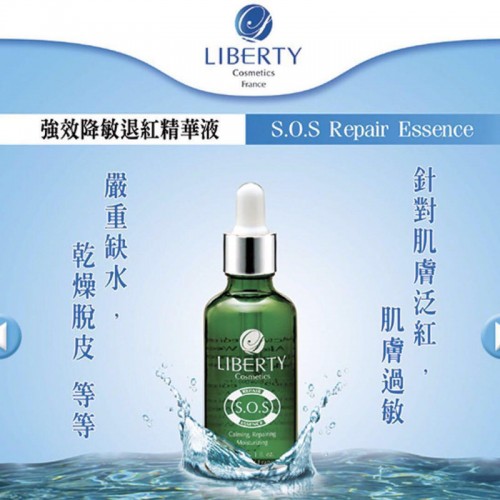 Ingredients
Licorice, Salvia Miltiorrhiza, Ceramides, Mentha, Vitamin B6, Hedera helix, Chamomile Extract.
Description
Specifically developed for delicate and sensitive skin types, it immediately soothes and calms skin allergy caused by environment, make up products and weather conditions.
Effective in repairing sensitive skins, prevent rupture and dilation of blood capillaries inside skins. Improve blood circulation and reduce sensitiveness in skin.
Bolster immunity in sensitive skins, anti-inflammatory, improves diffusion in blood capillary and regulate moisture level.
Ceramides is a revered ingredient used in moisturizing products, it is a key component in forging moisture barriers, allowing moisture to be retained deep within skin cells.
Share this information to

---
Liberty Acne Clearing Treatment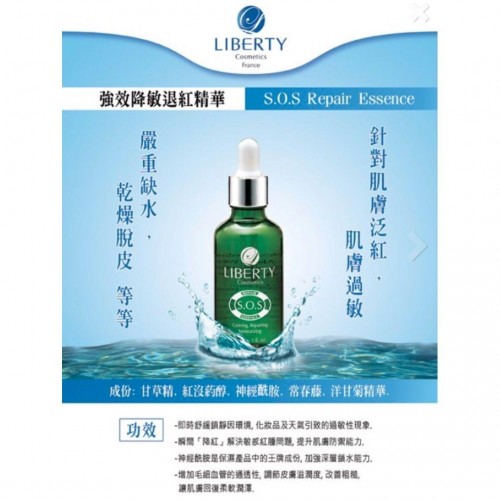 Ingredients
Aloe, Seaweed, Allantoin, Chamomile, Burdock, Serum Protein, Sage
Description
Adjust pH level of allergic and fragile skins, strengthen protective membrane.
Calm and assist repairing process in skin cells.
Maintain skin immunity against acne.
Non-alcoholic, with anti-inflammatory and antibacterial purposes.
Share this information to

---
Liberty Silk AA Revitalizing Treatment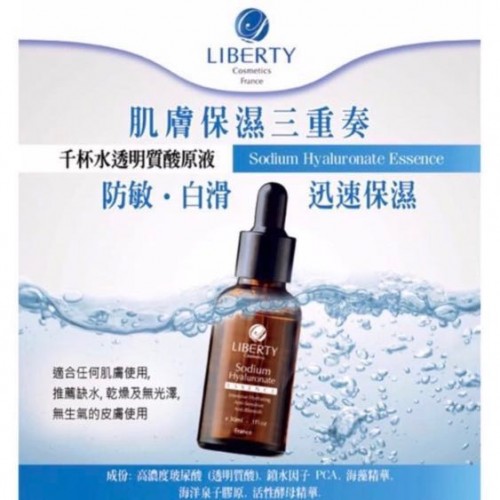 Ingredients
Silk AA, Vegetable Protein, Amino Acid, Hyaluronic Acid, Natural Moisturizing Factors
Description
Immediately supply nutrition and moisture to skin cells, making your skin compact and silk smooth.
Flatten dynamic wrinkles, reform skin density.
Reaches deep within the skin layers, awaken collagen and elastin cells, elevate facial contour.
Reduce the amount of freckles and evaluate skin dullness.
Share this information to

---