Vagheggi (France)
Professional Brands Facial Treatment
Vagheggi Balance Hydration Treatment (with Serum)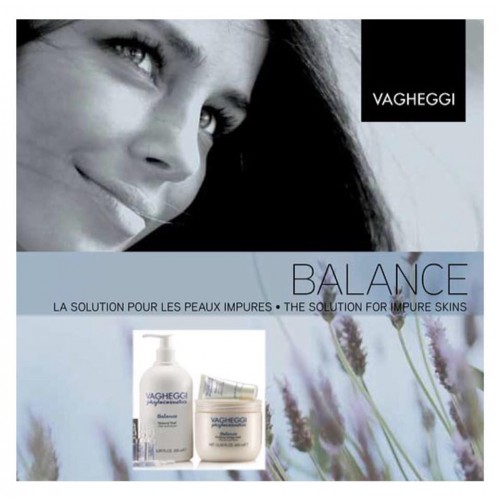 Ingredients
Extract of Mallow, Linden, Helichrysum, Chamomile - Soothing, protective, and restoring action.
Extract of Sage, Nettle and Burdock - Purifying and stimulating action.
Distilled water of Hamamelis - Refreshing and soothing action.
Other Active Ingredients
- Essential oils of Orange, Petitgrain, and Tangerine for a stimulating action.
- Blend of essential oils of Lemon, Cypress, Marjoram, Red Thyme, Ylang Ylang, Lavender specific for sensitive skin.
- Blend of essential oils of Eucalyptus, Lavender, Peppermint, Niaouli, Rosemary specific for mixed skin.

Description
The skin is constantly stressed by external agents, exposed to impurities and pollutants, sensitive to changes in the weather and the ongoing strain and fatigue that accompany our everyday life. This is why facial cleansing is an obligatory part of our skincare routine. The Equilibrium line comprises multipurpose, specific cosmetics that allow us to "pamper" our skin for a more radiant and even complexion and respecting the skin's physiological balance without forgetting the number one rule for preserving perfect skin: cleansing.
Share this information to

---
Vagheggi Balance Lymphatic Restoring Treatment (with serum)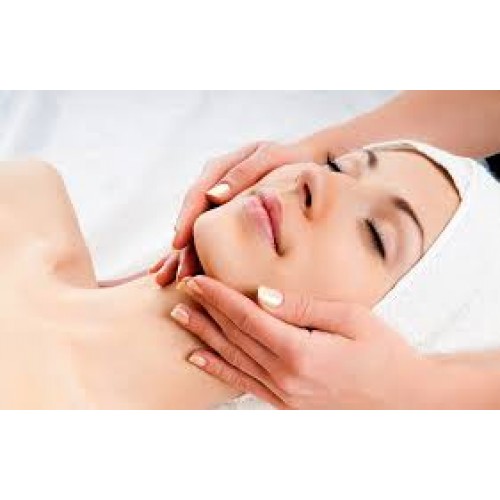 Ingredients
Cucurpita pepo - Which provides proteolytic enzymes for an effective scrub action and cell renewal stimulation.
Butyl avocadate - A Mexican fruit that gives an active ingredient (butyl avocadate) for preventing activity by the enzyme 5-alfa, thought to be responsible for the increase in sebum secretion.
Ananas Sativus - A plant native to South America that belongs to the Bromeliaceae family. Its high bromelain content (a blend of proteolytic enzymes and AHAs, vitamins from the A, B, and C groups and minerals) helps the keratolytic action: it digests surface proteins (keratin) to combat skin thickening. It also has an anti-bloating effect thanks to its capacity to digest fibrin.
Salix alba - A plant that grows throughout Europe and contains high levels of phenolic glycosides including salicine, the natural forerunner to salicyclic acid and flavonoids like isoquercitrin andtannins. It has an anti-inflammatory, soothing and exfoliating action
Lavandula Angustifolia - An essential oil with a purifying effect.
Description
Skin imperfections (dilated pores, shine, uneven bumps, outbreaks), often more frequent during puberty, but also at other times, are caused by excessive sebum production and factors such as stress and pollution, which alter hormonal balance. The Balance line comprises specific cosmetic products studied to combat combination and oily skin, with blemishes, freeing it from the toxins and impurities that accumulate daily on the surface, for a day-long uniform, matt appearance.
Share this information to

---
Vagheggi Herbal Revitalizing Treatment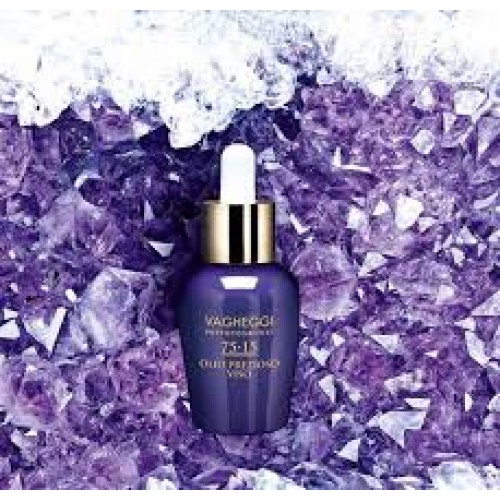 Ingredients
Pistacia Lentiscus Resin Crystals - Obtained using the green technology supercritical CO2 extraction method, it stimulates functioning of the youth proteins (Klotho) in the fibroblasts; thanks to its lifting effect it remodels the facial contours and makes the skin appear redensified and compact again.
Cornflower - A annual herbaceous plant belonging to the Asteraceae family and native to Asia, North America and Europe, it has decongestant and hydrating properties thanks to the formation of a water barrier that leaves the skin moisturised and elastic.
Amethyst - A mineral with a deep purple hue thanks to the presence of Manganese (a trace element that helps the physiological cell activity), rich in silica, it hydrates and tones the skin. It featured in ancient legends that make it one of the best-loved Quartz varieties and one of the gems most used for making jewellery and luxury settings. The Amethyst is also known to have a calming effect on the mind, helping to bring serenity, equilibrium and harmony to the body.
Passion Flower - Rich in Omega 6, it has a maximum-level anti-oxidant and nourishing action, for matt effect skin and absolute softness.
Brown Algae - This stimulates the 1H01 enzyme, which catalyses the production of new anti-oxidants, soothing elements and collagen and permits reabsorption of the haemoglobin released by capillaries, helping to lighten dark shadows. It also reduces fine lines and bags under the eyes, proving to have an exceptional anti-ageing action.

Description
The birth of 75.15 – an essential step forward in the destiny of every woman's beauty and a turning point in professional cosmetics Made in Italy; maximum attention to raw materials and efficacy of the formulas, research into style and taste in every single detail of substance and shape. We want to thank all the Beauty Centres that every day choose us, because they choose the excellence.
And so, with the birth of 75.15 in March 2015, the dream came true through extraction of the crystal from Pistacia lentiscus resin, we found our ally for Klotho, we perfected the formula of longevity and created a highly innovative line able to intervene on what our body produces to make us feel our best, able to give new youthfulness, light, density and elasticity to the face. Vagheggi has been established since 1975 making a history of over 40 years in developing and producing anti-aging skincare products.
The birth of 75.15 line in 2015 is the latest frontier in cosmetology, the perfect synergy of active ingredients from nature that work on the genetic codes in nature itself. It is a perfect integration of scientific technology and medical beauty. An essential step forward towards infinite beauty.
Share this information to

---
Vagheggi Detox and Allergy Soothing Treatment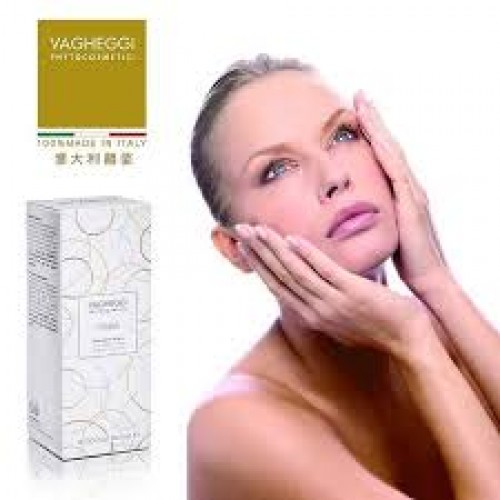 Ingredients
Curcuma Longa Tropical and subtropical plant characterized by a curcumin rich root, with excellent regenerative, antioxidant and anti-inflammatory properties. An innovative eco-responsible extraction system is carried out on totipotent turmeric cells, which are pressed to obtain the plant metabolome that prevents and blocks all stress-related skin irritation phenomena and other typical reactions of sensitive skins. This concentrated plasma contains not only conventional anti-inflammatory molecules, but also messenger molecules and enzymes that make the lenitive effect faster and more effective.
Zanthoxylum bungeanum Zanthoxilene is a perennial plant native to the subtropical region of Sichuan.From its fruits, one gets the spice called Sichuan pepper, which has a particular flavor and sensory properties that one perceives as a slight tingling. It is used to temper spicy spices. From the fruits and shrubs is obtained, by CO2 extraction, a patented lipophilic active capable of providing a soothing action to the sensations of discomfort of sensitive skins.
Anti-Pollution Active Shield Synergy of 3 specific polysaccharides to actively protect the skin against pollution. According to the latest findings, the skin microbiome, because of the fine powders, undergoes an alteration of its composition favoring the presence of harmful bacteria that can cause redness, dehydration and skin discomfort. This synergy helps to strengthen the skin barrier by creating a film that protects the microbiome by properly restoring its balance.
Maritime Pine It is found in its ideal environment, near the shores of the Mediterranean Sea-Atlantic. Its extracts have a powerful antioxidant action capable of neutralizing free radicals in addition to its lenitive, protective and elastic properties.
ACTIVE INGREDIENTS
Blueberry Organic blueberry extract, rich in anthocyanins, which acts on the wall of blood vessels, improving its resistance, permeability and elasticity. Antioxidant action.
Matricial Chamomile Rich in flavonoids for anti-inflammatory action and anti-oxidant action, responsible for its marked soothing properties.
Pomegranata Native to the area between Persia and northern India, has been cultivated throughout the Mediterranean since ancient times. Its extract is an effective source of tannins and enzymes, with exfoliating action.
Epilobium angustifolium Anti-inflammatory similar to cortisone: cosmeceutical product, Redness and hitching reduction, Increasing of the threshold of sensitivity, Anti-oxidant effect.
Micro Powder – Green Focus Suitable for anti-stress treatments, prevent skin relaxation and improve on skin compactness.

Description
The skin is the primary sensitive organ most exposed to environmental factors and can sometimes show physical signs of psychological stress. Because of the rapid evolution of life and of industrialization, sensitive, intolerant, fragile, with visible redness and broken capillaries, is becoming more widespread. Frequent phenomenon: affects 80% of the European population. The most common factors causing skin sensivity and discomfort can basically be grouped into three categories: Hereditary, Environment, Hormone, and Emotion.

Our mind and skin being closely related, the skin reflects what we "feel" and can be negatively or positively influenced; stress has been recognized to significantly increase the regulation of cortisol levels, leading to significant effects on homeostasis, hydration, inflammation and the general maintenance of the good condition of the skin. This is how Emozioni Plus was born; a product line, entirely designed for all types of sensitive skins, that intervenes with innovative strategies on the manifestations of imperfections due to the mind/skin connection. "Relax the emotions of your skin".
Share this information to

---
Vagheggi Delay Collagen Cell Repairing Treatment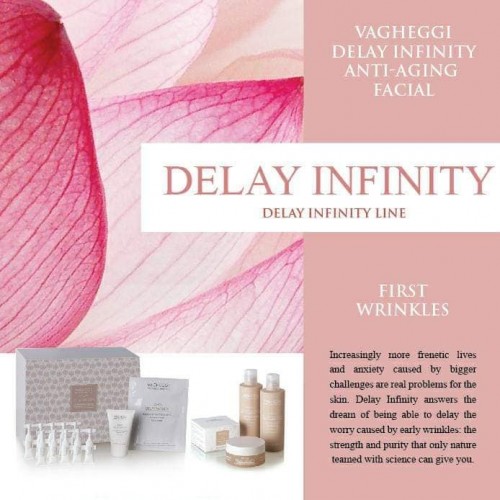 Ingredients
Crocus chrysanthus
Extract of crocus or "Cream beauty" is a symbol of rejuvenation and youthfulness. The extract is obtained from the bulb of this flower and is a "biological cell communication facilitator" which solves 2 problems: it increases the production of messenger molecules and makes the fibroblast accessible to the active ingredient thanks to a domino effect.
Purple Rice (Oryza Sativa)
Khao Gram variety, commonly called purple rice because it is rich in anthocyanins, which give the grains their typical purple colour. This is a special kind of rice, with strong anti-oxidant properties, considered holy in Thailand. Vagheggi has chosen to purchase this ingredient obtained from purple rice, to support, via its suppliers, the rural cooperatives and local populations that in Laos and Thailand have decided to grow this variety of rice once again.
The 5 levels of skin nourishment
Almond oil extracted by cold pressing from the almond fruit, it is one of the oils that contains the highest percentage of unsaturated and polyunsaturated fatty acids.
Jojoba oil, originating in the deserts of California and Mexico, the jojoba seeds are cold pressed to give an oil that is a liquid non-fat wax, rich in vitamin E (tocopherol, a natural anti-oxidant), vitamin F and minerals.
Macadamia oil, obtained from macadamia nuts, which grow wild in the Australian rain forests, this is a huge source of monounsaturated fatty acids, helps to prevent harm by free radicals and firms tissues.
Avocado oil, obtained from the pulp of the fruit of Persea americana, by cold pressing or centrifuge. It has excellent eudermic, sebum-like properties that nourish and regenerate, with a marked capacity for normalizing the hydrolipid cutaneous layer.
Shea Butter, an edible butter extracted from the seeds of the Shea tree, which grows in the savannahs of eastern Africa. It has anti-oxidant, filming and filtering properties and preserves natural skin tone.

Other Active Ingredient
ZEG moisturising system: An innovative humectant obtained from a sustainable renewable source of cane sugar that gives excellent moisturising results, immediately noticeable on application and with a long-lasting effect.
Biopolymer from Manioca: This polymer, created by a new sugar reticulation technology, forms a 3D network that works by anchoring itself and spreading across the skin's surface to immediately generate a lifting and smoothing effect.
Light scattering system: An innovative technology with a very effective soft focus and filler action. It scatters light to even out the complexion and soften signs of skin ageing and blemishes.

Description
From the age of thirty it is a good idea to change certain steps in our beauty routine. The legacy of youthfulness that came with our DNA at birth starts to show early signs of waning, with the first wrinkles, and thinner skin that is less elastic and reactive to the continual contraction and relaxation of the micro muscles responsible for facial expressions. The Vagheggi R&D laboratories have created the Delay Infinity line for use during the initial stages of skin change. It is specific for skin that is starting to show early wrinkles or for those who want to take preventive action, and it leaves the skin a fresh, smooth, uniform look.
Share this information to

---